Big payoffs for companies that invested in omnichannel
[Note: Originally posted May 20, 2020 on my now-defunct Substack]
Retail broadly is clearly going through some pains. Just look at last month's retail sales numbers - they were ugly across the board. Except for ecommerce.
But not all ecomm is equal. You have pure online transactions (like Shopify stores and Etsy sellers). And you have physical retailers selling digitally. Here we'll focus on that second group.
This was the quarter where digital sales made the leap
Web Smith has described the relationship between the J-Curve and agglomeration. Basically, ecomm is expensive because it requires huge upfront costs. But if you move beyond that, the scale it allows offers big rewards.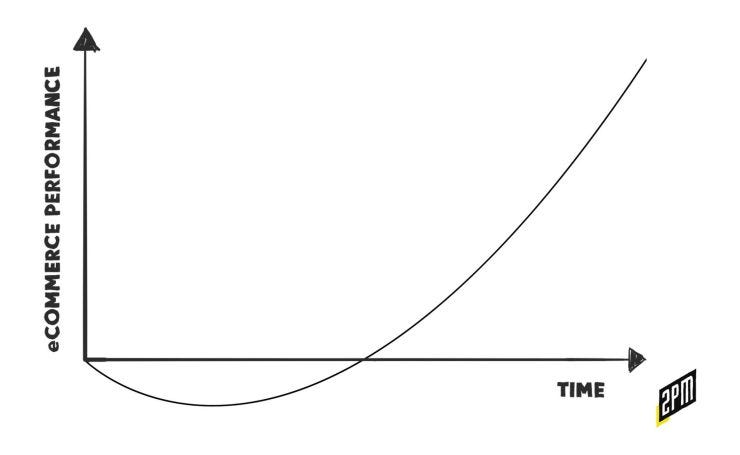 Earnings from companies like Target, Walmart, and Home Depot have shown that the offline-to-online shift is working really well for the companies that have invested in the area.
Ecomm growth for:
Target said total comparable sales grew 10.8%, though digital comps were up 141%, accelerating from 33% in February to 282% in April.
Walmart ecomm growth up 75%, contributing 390 bps to comps.
Lowe's +80% y/y (despite their not-yet-complete ecomm platform)
Home Depot +79% y/y
Side note: what's interesting about Lowe's and Home Depot is the big comp growth also plays into "stay-at-home" leverage we saw with Peloton and Wayfair.
Amazon sales were also higher in the quarter as shoppers were quarantined.
But here's the difference - same-day sales fulfillment is cheaper and faster for these stores than for Amazon given their existing footprint. You also get optionalty with those brick-and-mortar stores that you don't get with Amazon -in-store, pick-up, or delivery. You choose.

The opportunity there is huge - Target saw same-day services (order pick up, drive up, and Shipt) up 278%.
Stores as fulfillment centers
There's obviously big demand for ways to shop in the space between "go into the store" and "doorstep delivery." And companies that made those investments before the crisis (Target, Home Depot, etc.) saw it pay off over the past few months.
The good news for the companies that have not made those investments is that it is fairly easy (all things considered) to scale that up fairly quickly. A lot of companies have made a seamless shift to BOPUS (buy online, pick up in store) and curbside pickup in short order (Best Buy, Kohl's).
The bad news is that there's a negative spot on the J-curve. There are going to be a lot of companies that fall into that area below the line (read: burn a ton of cash until they realize their ecomm strategy will never be profitable). We'll have to revisit that in Q3 and Q4.
Personally, I've had mixed success with the BOPUS model.
I waited half an hour once to get connected to the desk you have to call at Home Depot to have your order brought out.
Target has a pretty large number of items that are ineligible for pick-up.
I wanted to do grocery pickup from my local Jewel-Osco pretty early in the lockdown, but there weren't open spots available for several weeks.
But I also think we're in the top of the first inning here. There's a lot of room to improve as operations and logistics shift toward an ecomm-first world.
But what about all of that real estate?
On agglomeration, I am a little more optimistic than Web . He says...
America is shifting toward an eCommerce economy as retail analysts anticipate another 100,000 stores closing by 2025. The J-curve will happen for eCommerce; the leading indicators have made that clear. The new agglomeration isn't within a trendy city or neighborhood, it's on the internet. And retail will be too.
I'd instead argue that there is a lot of value in the optionality that brick-and-mortar have over Amazon (though that's not to say Amazon can't one day replicate this strategy). However, you'll see fewer 135,000 square foot big box retailers but a lot more 80,000 square foot city Targets and Walmarts that are defacto fulfillment centers.
The takeaways:
Ecomm basically doubled the gains it made in the past ten years over the past eight weeks. That might go down a bit, but we're at a permanently higher level.
Commercial real estate is going to take a hit. But I would argue we'll see a shift, rather than a disappearance, of retail in cities and urban areas.